bloggerscorner
26 September 2009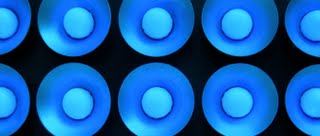 Seminar about urban screens and public space directed by architect Nerea Calvillo takes place on September 28, 29 and 30. place:
Medialab Prado
, Plaza de las Letras, C/ Alameda, 15 Madrid.
Follow the live streaming
here
With the participation of Mirjam Struppek (Interactionfield), Susa Pop (Public Art Lab), Jeffrey Huang (Media Design Lab), Kim Halskov (Digital Urban Living), Jan Edler and Tim Edler (Realities United) and Keri Elmsly and Alexandros Tsolakis (United Visual Artists).
In order to engage urban screens with public space three main fields of action have been identified:
Social Participation. Urban screens as promoters of social responsibility and civic participation.
Data visualization. Urban screens as information emitters, constructors of critical thought and collective memory.
Game and Interaction. Urban screens as interactive devices which promote social interaction and ludic experiences.