bloggerscorner
27 November 2009
Call for projects:
Open Up
is a workshop for the development of projects for the digital facade in
Medialab-Prado
's building. This call is addressed to the presentation of proposals to be developed during the workshop-seminar taking place in Madrid from February 9 through 23, 2010.
Deadline for proposals: December 10, 2009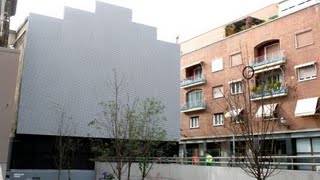 Projects presented in this call will have to explore one of the following aspects:
referring to the development of strategies for public participation, during any of the project's phases
encourage ways to activate urban space through the screen
avour stronger public visibility of agents that normally have none
visualize public collectives
develop new ways to activate and interact with the screen among users and portable devices such as cell phones, videogames, lasers, etc.
include emerging systems and processes that allows this project to evolve and change through time
Comments:
Good day !.
You may , probably very interested to know how one can collect a huge starting capital .
There is no initial capital needed You may start to get income with as small sum of money as 20-100 dollars.
AimTrust is what you haven`t ever dreamt of such a chance to become rich
AimTrust represents an offshore structure with advanced asset management technologies in production and delivery of pipes for oil and gas.
Its head office is in Panama with structures everywhere: In USA, Canada, Cyprus.
Do you want to become an affluent person?
That`s your choice That`s what you wish in the long run!
I`m happy and lucky, I started to get income with the help of this company,
and I invite you to do the same. If it gets down to choose a correct partner who uses your savings in a right way - that`s it!.
I take now up to 2G every day, and my first deposit was 1 grand only!
It`s easy to join , just click this link http://pemewera.greatnow.com/nahipy.html
and go! Let`s take our chance together to get rid of nastiness of the life
Post a Comment
<< Home